Last Updated 2 years by Upright
Here are our Seventh Sense CBD Reviews for You
Seventh Sense CBD Reviews article contains every piece of information required before purchasing CBD products from the brand.  The best part about the brand is that they sell quality products.
Let's dive right in.
Seventh Sense CBD Brand Overview
Nowadays, several companies are selling CBD products; one of them is Seventh Sense CBD Brand. Their products have high potency and have real-life changing results. The brand wants everyone to experience the magic of CBD.
The brand sources its CBD in the United States from certified and state-licensed hemp processors. Every lot goes through a test and, the brand claims that the amount of THC is not more than 0.3. The brand takes care of its customers. For this reason, a team of experts with 30 years of experience in the personal wellness and skincare industry engages in the formation and development of products.
All the products are animal friendly. According to the Seventh Sense CBD reviews, it provides free domestic shipping if you spend over $60. Read more to know about the products offered by the brand.
Best Sellers products of Seventh Sense CBD
Deep Relief Cream 2000mg Cool Mint= $85.00
Broad Spectrum Drops 2000mg Peppermint= $75.00
Berry Gummies 30 ct= $30.00
Deep Relief Serum Roller Eucalyptus Spearmint= $40.00
Sleep Tight Broad Spectrum Drops 1500mg Blueberry= $65.00
Deep Relief Cream 1500mg Eucalyptus Spearmint= $70.00
Rest Easy CBD Soothing Leg and Foot Cream Lavender= $25.00
Deep Relief Muscle Balm 1000mg Eucalyptus Spearmint= $55.00
CBD Products offered by Seven Sense
Seventh Sense CBD product line includes many products of high quality and high potency. All of them have certain advantages. Some of the products are listed below and their information that you need to know.
Deep Relief Cream
Night Cap Bath Oil
Deep Relief Bath Bomb
Face Oil Cleanser
Lip Balms
Muscle Balms
Tincture
Let's uncover the magic of CBD products.
Deep Relief Cream
One of the leading products of the Seventh Sense brand is deep relief cream 500mg. It contains all the natural ingredients and, due to natural ingredients, a color shift can occur. It is manufactured with nature's powerful resources to provide fast action against sore muscles and joints. The cream is non-greasy and, it rapidly absorbs where it is applied. It also provides a cooling effect where applied, as it contains an ultra-effective blend of methanol. If we talk about the key ingredient, it is clear that it has a high concentration of 100% hemp-derived CBD oil. You can apply to the affected and rub gently.
Night Cap Bath Oil
It is also 100% hemp-derived CBD oil.  It also contains argan oil, kukui oil, and lavender oil. If you're a bath lover use, this especially before bedtime for relaxation. Use a few quantities of it, pour it into the water, and then enjoy your bath to feel fresh.
Deep Relief Bath Bomb
If you prefer bath bombs to oil, then you need to try this product. It provides instant relief from pain as it uses an ultra-effective formula to cure pain. The ingredients it contains are 100% hemp-derived CBD, Potent of methanol, ginger peppermint, camphor. It provides a cooling and soothing effect to sore muscles.
Face Oil
Seventh Sense contains some beauty products in this category. These products provide you with clear, smooth, and glowing skin. They bring balance to your skin, control the aging effect, and also soothe your skin from irritation. The brand uses all-natural ingredients in its production like argan oil, hemp-derived oils.
Lip Balms
Lip balms contain pure ingredients.  It has enough amount of CBD to lose your mood, and it also keeps the moisturizing effect. They give softness, smoothness to your lips.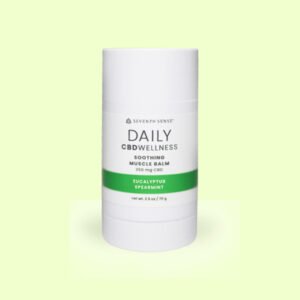 Muscle Balms
seventh sense botanical therapy product contains a high concentration of CBD and other botanicals for intensive relief. It is portable and easy to use. They do not smell bad and, they sink into your skin. It contains 100 percent hemp-derived oil, methanol for cooling effect and, it also has other natural ingredients to give a soothing effect to the affected muscle.
Tinctures, Gummies & Mints
To bring balance to your day, you need to try these products from the seventh sense as they are best to balance your mood. They are portable and contain natural ingredients.
Pros & Cons of Seventh Sense products
Pros
CBD is sourced in the United States
100% Hemp-Derived CBD
Non-GMO
Gluten-Free
Paraben-free
Cruelty-free
not more than 0.3 percent THC.
Domestic shipping is free when you purchase over $60.
30 days full refund system
cons
you'll pass a drug test
While we don't hold an organic label
Closing Statement
Seventh Sense CBD Brand products are best to kick off your day. It contains personal care and beauty products manufactured from natural hemp grown in farms of the United States. You can use hemp-derived CBD products from Seventh Sense to relax your tense muscles daily basis.
It includes several products like body lotion, muscle balms, bath salts, sugar scrubs, and certain fragrances.  You can enhance your skincare routine by using their products.  Before using these products, do consult your doctor and go through the Seventh Sense CBD reviews once!
You Will Also Love to Read–
CBDfx Reviews 2022: Taking Strong Footprint in the CBD Industry
Medterra CBD Review For 2022: What to Know Before You Buy! water-soluble CBD tinctures
Diamond CBD Reviews 2022 – is it the best brand? traditional CBD oils
CBD Clinic Reviews in 2022 – 4 Best Products.water-soluble CBD oil
Absolute Nature CBD Review 2022: Best Products & Top Products.canine CBD oil tincture
Joy Organics Review: Know Their Entire CBD Catalogue. best CBD oil reviews